On a WordPress MU site you have the main blog and all the other blogs are created as sub-directories (like example.com/blog1) or sub-domains (like blog1.example.com).   This main blog, also called your homepage, is the hub of your site; it's the first page people see when they visit your site.
Your homepage is really important; used well it supports and encourages blogging within your organisation.
Unfortunately I find it's often neglected so I decided to do a series of posts on getting more out of your homepage.  Each post will showcase a different site and then explain how they've achieve the look!
So to kick off the series I've decided to start with National University of Singapore's homepage because it's an excellent example of a clever use of providing all the required information, in an easy to understand format while grabbing your attention.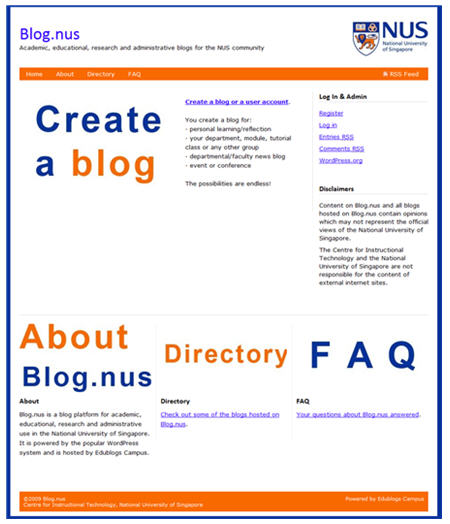 They've used WPMU-Nelo which is a popular theme because it's one of the most customisable WPMU themes and provides a stylish, clean, professional looking site for minimum fuss.
It's included in all Edublogs Campus sites and can be downloaded from WPMU DEV Premium.
It originally looked like the screenshot below:
Here's how they've created the look:
With WPMU-Nelo you have the choice of a custom homepage (static front page) or a post page.  They've used the custom homepage.
In Theme options they have changed the background, link, navigation and footer colors–
1) Background color in Blog Layout Setting to blue

2) Link color under Blogs Font Settings to blue
3) Navigation and footer colour under Navigation & Footer Cooler settings to orange
Most of the homepage look was created by uploading images using Appearance > Custom Homepage.
To achieve best results upload using the sizes indicated in the screenshot.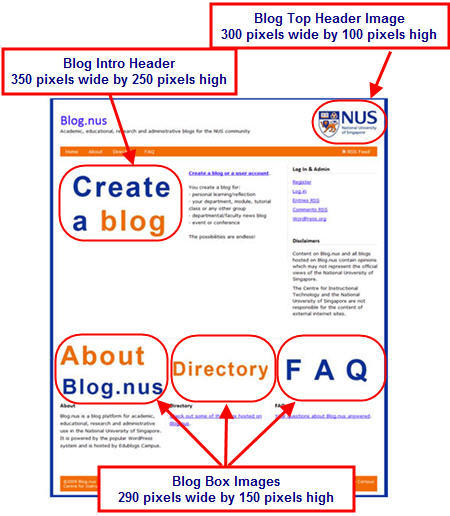 The Homepage intro and text at bottom of page was added using HMTL code in Appearance > Custom Homepage and links to the following pages:
Their sign up page – so users can create their own blogs  or usernames
A directory – so their community to check out examples of different blogs on the site
A FAQ – to answers commonly asked questions and provide support for their users
Here is where they added their intro text:
Here is where they added their bottom text.
Please note with Nelo:
You have to upload images to each bottom box
You can upload almost any HTML embed code to these homepage boxes (for example, YouTube Videos)
The log In & Admin and Disclaimers on the right hand side of their homepage was created using a Meta Widget and a Text widget with HTML in Appearance > Widgets
Please note on Nelo:
For a custom homepage you add widgets to the Home Top Right
For the pages you add widgets to the Sidebar
For more information on working with your homepage refer to:
If you are enjoying reading this blog, please consider
Subscribing For Free!